Increase productivity on the go, while relieving your back and neck !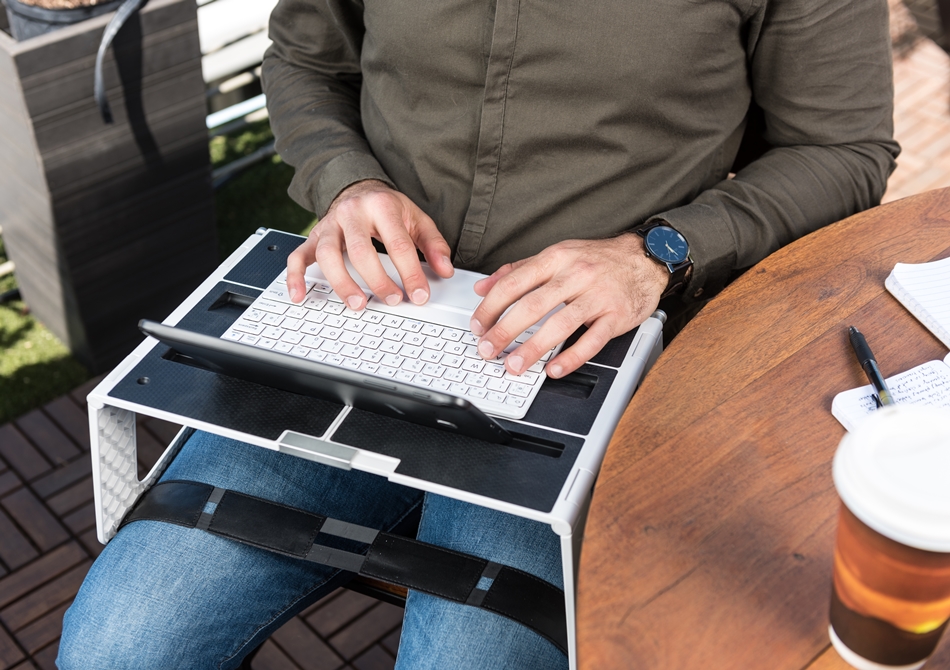 Ever felt inconvenient and uncomfortable while using your laptop or tablet on a business trip, attending a conference ?   
Hunching over your device, or having to hold it constantly and at the same time  be productive is mostly not really achievable  without some pain and aches sooner or later.  
The universal multi-device stand "iMoov Astuto" allows you to  increase productivity and to keep a good posture while using your laptop / tablet PC, as NO OTHER STAND does !
You can use your computer or tablet efficiently really anywhere : train, plane airport, taxi, shared spaces, hotel, bed, lounge, long chair, ...
Trying is adopting.  Many companies purchased for their managers, technicians, sales reps, employees after having the products in hands.
« iMoov | The BEST LAPTOP STAND on The GO. The product is very stable, even in severe conditions. »
« We've tested quite a few of these products, but the iMoov definitely blew us away. In our opinion, iMoov is the best universal stand we've come across. »
« iMoov can be used in many ways making it a lot more versatile and ergonomic than a lot of other lap desks that I've tried in the past. It folds down into a lightweight package for portability. »
« iMoov | The smartest stand we have seen. It folds in a second and offers unparalleled comfort. »
« Overall, I thought this was an awesome product. I loved the Astuto, I loved the Teclado and I adored the BagIT case. I could definitely see myself using this in my everyday life. »
Comfort and efficiency anywhere !
Train, plane, airport, taxi, shared spaces, hotel, bed, lounge, long chair, ...
iMoov is the tool you need really anywhere !